ISML 2016 Contestants
Click on a Contestant's portrait to view her profile and career history.
---
Past ISML Contestants
Character profiles are synchronized through ISML 2009.
Hall of Fame
Since 2015, the Tournament of Champions has put all Tiara winners in a dedicated contest
to determine the best of the best in time-honored saimoe.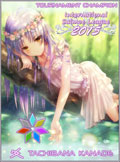 Tachibana Kanade
(2015)