Spirit hunter

Posts: 2073
Joined: Sun Dec 05, 2010 11:30 am
Melon Pan: 50
Cards: Elvinsky's Cards
Eh, don't worry about it. I can wait.

Got nothing but time anyway.
"Rip and Tear. Rip and tear until it's done."
"To the good people I met on this site (Kordosa, Minhtam, Crisu, Maglor, Desufire, Momo, Marinara, Midnight-Jasper, Hikarin, Momento10, Shiraoky, Alex, Bastion, Superunature, Demi., Sedon, xcrossfacekillahx, Silver21, CureRainbow) thank you for the nice memories."
Mad scientist

Posts: 1016
Joined: Tue Mar 29, 2011 4:20 pm
Melon Pan: 50
Wish: A better life
Cards: Chikara Icy's Cards
Location: Indonesia
Contact:
Ok, don't worry
I waiting
Assassin

Posts: 543
Joined: Sat May 28, 2011 5:36 am
Worships: Madoka
Melon Pan: 50
Wish: me to be in an anime.
All-time Favorite:
Tachibana Kanade
Cards: Cross's Cards
Location: ISML lair
Marinara-chan, can I request for your Iwasawa sig? I hope you don't mind.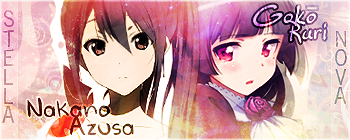 Support ISML + My All-time Favorite
Show
Pokémon trainer

Posts: 23
Joined: Mon Feb 20, 2012 1:26 pm
Worships: Shana
Melon Pan: 50
Wish: Shana win necklace~
Cards: Marselaa's Cards
Contact:
whoaa.. I hope I can do some amazing works like Marinara.. :O