Space pirate

Posts: 389
Joined: Sun Aug 01, 2010 9:02 pm
Melon Pan: 50
Wish: Clannad season 3
Cards:
Location: Brasil
Video to the decision of the aquamarine necklace


Nikuman

Posts: 46
Joined: Fri May 18, 2012 7:05 pm
Melon Pan: 50
Cards: Nepommic's Cards
Very nice. Tsundere allday. lol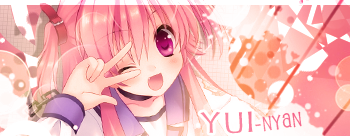 Soul gem

Posts: 4347
Joined: Fri Jun 10, 2011 10:51 pm
Melon Pan: 50
Wish: K-ON! Season 3
Cards: Jeffrey-sama's Cards
Location: AKB48 Theater
Contact:
It's a nice video and all, but I personally felt there were some flaws.
- Subtitles showing up are not good, especially if they aren't English
- Bad video quality (many scenes are pixelated)
- Text effects are too flashy
Nonetheless, props to you for taking the time to make it.