Spirit hunter

Posts: 2187
Joined: Fri Jul 13, 2012 6:22 am
Worships: Kotomi of course
Melon Pan: 50
Wish: Everyone in the world to realize the greatness of durians
Cards: DurianDude's Cards
Location: At the Tomato Market
Contact:
That pretty much sums up all I've watched. Considering the fact I only started watching last December, that's not bad.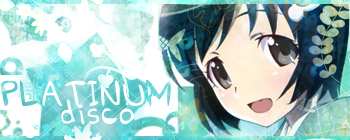 Incubator

Posts: 3613
Joined: Tue Mar 01, 2011 5:42 am
Worships: Rosario Cross
Melon Pan: 50
Wish: A very good tournament and more cookies. Moehood to reign
Cards: xcrossfacekillahx's Cards
Location: Planet Saimoe
Sacred jewel

Posts: 353
Joined: Wed Jun 17, 2009 5:08 pm
Worships: Miyanaga Saki
Melon Pan: 50
Wish: A job to just land on my lap
Cards: aly_angelflight's Cards
Definitely more than 50. I could probably even pass 50 if I threw out any series on my completed list where I haven't finished the sequel seasons and combined entire franchises into one.