[You can (not) Zura]

Posts: 3084
Joined: Fri Oct 02, 2015 1:52 pm
Badges:

Worships: Nero Claudius
Melon Pan: 120
2020 Female Favorite: Nero Claudius
2020 Male Favorite: Okazaki Tomoya
2019 Female Favorite: Sakurajima Mai
2019 Male Favorite: Araragi Koyomi
2018 Female Favorite: Nishimiya Shōko
2018 Male Favorite: Kyon
Wish: Anime girls to take over the world
Cards: Chibasa's Cards
Location: France
Compared to your initial expectations. Who made best start and who made weakest one?


Secret Santax Time
much more stuff than Toady
Show



Hikarin

is the best
Poor Kaori...it's no longer April, R.I.P.
Moon princess

Posts: 3022
Joined: Wed May 25, 2011 5:37 pm
Badges:

Worships: セニョール・ハズビーナ, ダークライ,クン・アゲロ・アグネス
Melon Pan: 201
2020 Female Favorite: Nakano Miku
2020 Male Favorite: Kakyoin Noriaki
2019 Female Favorite: Platelet
2019 Male Favorite: Bakugō Katsuki
2018 Female Favorite: Kurumizawa Satanichia McDowell
2018 Male Favorite: Bakugō Katsuki
Wish: A precure making it in ISML and a very popular male Saimoe. Also a Mucha Lucha anime. Darkrai in Saimoe
Cards: HasbeenaHibiki's Cards
Didn't expect Haruhi to win a landslide against Kosaki.
Heavenly Tiara

Posts: 16378
Joined: Sat Aug 08, 2009 11:27 pm
Worships: Kaname Madoka
Melon Pan: 50
2020 Female Favorite: Aisaka Taiga
2020 Male Favorite: Agatsuma Zen'itsu
2019 Female Favorite: Kaname Madoka
2019 Male Favorite: Azusagawa Sakuta
2018 Female Favorite: Chtholly Nota Seniorious
2018 Male Favorite: Hikigaya Hachiman
Wish: An awesome 2020 ISML.
Cards: Hachiko's Cards
Location: Long Beach, California
Contact:
ISML 2018: Just A Matter Of What!?
By Jo-Ryan Salazar
The Bedlam on Baltic Avenue
May 19, 2018
The early rounds of the 2018 International Saimoe League Aquamarine Period are built on separation, heavy turnout and decisive results, with occasional close races thrown in. Match Day 3 of this period is in the books. In the Female Division, Tamako Kitashirakawa scored the Upset of the Round, a 4192-3516 win over Kaori Miyazono, Inori Yuzuriha slaughtered Sakura Matou 3969-2622, Aoba Suzukaze thrashed Shalltear Bloodfallen 3316-2416, Ai Haibara routed Chise Hatori 4348-1969, Nao Tomori thumped Kuroyukihime 3509-2462, Ruiko Saten defeated Kaho Hinata 3176-2556, Rikka Takanashi dismantled Shinka Nibutani 5751-1461 and Haruhi Suzumiya smashed Kosaki Onodera 5286-2273.
Mitsuya Miyamizu crushed Miku Izayoi 4390-2365, Illyasviel von Einzbern annihilated Yuuri 4697-1758, Taiga Aisaka roared past Miyako Shirakawa 4142-1884, Gabriel White Tenma outlasted Karen Tendou in a battle of blonde gamers 3337-2288, Ayase Aragaki overpowered Kotori Minami 3549-2768, Emilia stonewalled Ikaros 4973-1999, Tomoyo Daidouji prevailed over Homura Akemi 3057-2744 and Asuna Yuuki slashed past Maika Sakuranomiya 4972-2023.
Wrapping up Female Division action, Kumiko Oumae defeated Mirai Kuriyama 3592-3248, Nanami Aoyama clobbered Louise Francoise Le Blanc De La Valliere 3526-2223, Mashiro Shiina dismissed Vignette April Tsukinose, Nero Claudius dominated Victorique de Blois 3961-2300, Eucliwood Hellscythe punched Yukina Himeragi 3597-2090, Rem rolled past Albedo 5309-1705 and Yui Yuigahama hammered Akane Mizuno 3913-1818.
In the Male Division, Kusuo Saiki defeated Yashiro Isana 3198-2127, Izuku Midoriya prevailed over Joutarou Kuujou 2982-2053, Armin Arlert won a 2518-2338 barnburner over Koutarou Azumi 2518-2338, Takashi Natsume put Shirou Tkisada Amakura to the sword 2729-2375, Subaru Natsuki eased past Mikoto Suou 3288-2376, Saika Totsuka toated Itsuki Hashima 3078-2024, Yuuta Togashi rolled past Kaito Kuroba 3430-2398 and Edward Elric crushed Tsunayoshi Sawada 3284-1713.
Tetsuya Kuroko blew past Rei Kiriyama 2686-1893, Gilgamesh flattened Makoto Itou 4029-1748, Conan Edogawa overpowered Reg 3780-1695, Sadao Maou slammed Kojou Akatsuki 2701-1723, Sorata Kanda thumped Haruka Kasugano 3387-2094, Hachiman Hikigaya routed Killua Zoldyck 4763-1494, Shidou Itsuka tored down Houzuki 3713-1457 and Eren Yeager flew past Ryouma Echizen 3546-1800.
Wrapping up Male Division action, Nagisa Shiota thrashed Satoshi 3982-2069, Sasuke Uchiha won a 2759-2632 nailbiter over Kyon 2759-2632, Masamune Izumi won the closest race of the round, a 2867-2807 thriller over Itachi Uchiha, Souma Yukihira raced past Glenn Radars 3394-1879, Koyomi Araragi overpowered Natsu Dragneel 2877-2332, Monkey D. Luffy trounced Yang Wenli 3547-1374, Touma Kamijou broke Shizuo Heiwajima 3283-1883 and Shoutou Todoroki defeated Hideri Kanzaki 2852-2478.
In Winter Seasonal action, Diadem favorite Miyu Edelfelt flexed her muscles against Akira Tachibana 3700-1738 and Pipimi cruised past Hakumei 3181-1836.
Match Day 4 of the 2018 International Saimoe League Aquamarine Period is scheduled for May 20, 2018. Vote for your favorite characters at InternationalSaimoe.com and join the ongoing debate.
~Blood Hunter~

Posts: 1099
Joined: Sat Nov 26, 2016 3:00 pm
Badges:
Melon Pan: 0
2020 Female Favorite: Chtholly Nota Seniorious
2020 Male Favorite: Willem Kmetsch
2019 Female Favorite: Violet Evergarden
2019 Male Favorite: Azusagawa Sakuta
2018 Female Favorite: Nishimiya Shōko
2018 Male Favorite: Satomi Rentarō
Cards:
Location: Neverland
Contact:
Poor Reg and Hideri :<
Also laughed for Sasuke winning against Kyon.
My Forumoe Signature Archive
Show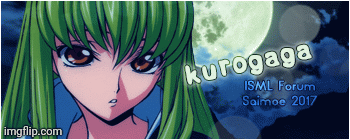 Rogue

Posts: 368
Joined: Thu Jan 12, 2012 3:35 pm
Melon Pan: 51
Cards: RockmanXt's Cards
Location: Inaba Town
Wow Haibara, really, after all this time?
[Death by Embracing]

Posts: 2524
Joined: Wed Jan 01, 2014 1:10 pm
Badges:

Melon Pan: 36
2018 Female Favorite: Kuroyukihime
Cards: tehyc's Cards
Izumi Masamune Eromanga Sensei 2867
Uchiha Itachi NARUTO 2807