Hikarin's Kitty

Posts: 7427
Joined: Tue Feb 17, 2009 3:31 am
Worships: Kousaka Reina
Melon Pan: 50
2017 Female Favorite: Karasuma Chitose
2017 Male Favorite: Killua Zoldyck
2016 Female Favorite: Yazawa Nico
2016 Male Favorite: Killua Zoldyck
Wish: Hikachu to not hate me
Cards: Tsumikitty's Cards
MAL Ratings ISML Chat, Saimoe Blog, Saimoe Wiki
A tall, towering wall looms in front of me. Beyond that is something that I could never to see on my own.
And that is...the view from the top.
Necromancer

Posts: 881
Joined: Thu Feb 04, 2010 8:07 am
Worships: Sanzen'in Nagi
Melon Pan: 50
Wish: Want Nagi to win this year ISML....
And 1 Million bucks....
Cards: Wolfnagi's Cards
Location: Within a multi-verse
Contact:
Nice one Kholdy,
Anymore for Topaz???????




Translator

Posts: 2278
Joined: Mon Jun 01, 2009 6:17 pm
Badges:

Melon Pan: 92
Wish: It's a secret
Cards: Alexander's Cards
Location: Sea of Memories
Nice posters.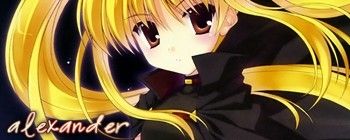 Paladin

Posts: 1097
Joined: Wed Jun 03, 2009 2:38 pm
Worships: Furude Hanyū
Melon Pan: 50
Wish: More free time
Cards: ilkaid's Cards
Location: Brighton, England
Contact:
I like the Hecate one the most, but there all good.
Combat butler

Posts: 1057
Joined: Sun Jan 03, 2010 9:36 am
Worships: Tennos "A-tan" Athena
Melon Pan: 50
Cards: Cassiopeia's Cards
Location: Ontario, Canada
Contact:
Hecate should get aquamarine!!:D
Credit to Awesome Hikarin <3 ISML2011 FINAL <3