Hikarin's Kitty

Posts: 7427
Joined: Tue Feb 17, 2009 3:31 am
Worships: Kousaka Reina
Melon Pan: 50
2017 Female Favorite: Karasuma Chitose
2017 Male Favorite: Killua Zoldyck
2016 Female Favorite: Yazawa Nico
2016 Male Favorite: Killua Zoldyck
Wish: Hikachu to not hate me
Cards: Tsumikitty's Cards
Meh, Topaz has lots of obscure characters so it was harder to find high resolution images for them.
MAL Ratings ISML Chat, Saimoe Blog, Saimoe Wiki
A tall, towering wall looms in front of me. Beyond that is something that I could never to see on my own.
And that is...the view from the top.
Thaumaturge

Posts: 413
Joined: Thu Mar 12, 2009 7:22 pm
Worships: Nakagawa Kanon
Melon Pan: 50
Wish: Athena gets really popular in the future, also TWGOK S3
Cards: Game8910's Cards
Location: Neo-Venezia
Contact:
BEST ONE
Translator

Posts: 2278
Joined: Mon Jun 01, 2009 6:17 pm
Badges:

Melon Pan: 92
Wish: It's a secret
Cards: Alexander's Cards
Location: Sea of Memories
I like Arisa's the best.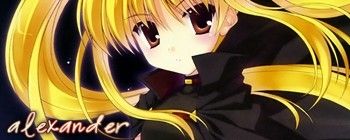 Necromancer

Posts: 881
Joined: Thu Feb 04, 2010 8:07 am
Worships: Sanzen'in Nagi
Melon Pan: 50
Wish: Want Nagi to win this year ISML....
And 1 Million bucks....
Cards: Wolfnagi's Cards
Location: Within a multi-verse
Contact:
Taiga have the best picture xD
And Oscar picture is kinda,
surprising that she have some charm point.........




Paladin

Posts: 1097
Joined: Wed Jun 03, 2009 2:38 pm
Worships: Furude Hanyū
Melon Pan: 50
Wish: More free time
Cards: ilkaid's Cards
Location: Brighton, England
Contact:
The Satoko and Athena ones are awesome
~Fukou da~

Posts: 8253
Joined: Thu Feb 26, 2009 8:57 pm
Badges:

Worships: Abriel Nei Debrusc Borl Paryun Lafiel
Melon Pan: 75
2017 Female Favorite: Tomori Nao
2017 Male Favorite: Yang Wenli
2016 Female Favorite: Miyamori Aoi
2016 Male Favorite: Korosensei
Wish: More people being open to alternatives and compromises.
Cards: maglor's Cards
Awesome Oscar Poster!!!
Claymore

Posts: 434
Joined: Sun May 03, 2009 9:35 pm
Worships: Hoshina Utau
Melon Pan: 50
Cards: Kairi's Cards
Location: Portugal.
Contact:
Indeed, gotta love the Oscar poster. <33

Riku's one is pretty cute too, but I wished it was Rosemary there instead. ;_;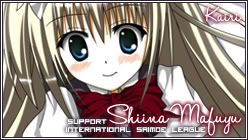 Combat butler

Posts: 1057
Joined: Sun Jan 03, 2010 9:36 am
Worships: Tennos "A-tan" Athena
Melon Pan: 50
Cards: Cassiopeia's Cards
Location: Ontario, Canada
Contact:
Game8910 wrote:BEST ONE
I second that! Hopefully that will be a reality in the near future
I love A-tan, Oscar, Alice
Credit to Awesome Hikarin <3 ISML2011 FINAL <3
Intelligent device

Posts: 1355
Joined: Sun Dec 27, 2009 5:32 am
Worships: Reimu Hakurei
Melon Pan: 50
Wish: A happy and peaceful life.
Cards: bluemage's Cards
Location: Canada
Contact:
Props for making all these awesome posters KholdStare! I gotta say though, Alisa's really blew me away.
She reminds me of Yui from Angel Beats! in that get-up.
Athena's is nice too. And lol, you can see Rika-chama's hair in the Satoko one.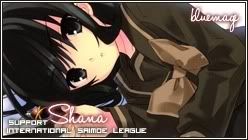 #1<----------
ISML 2012 Top 8!
---------->#8
----------
#8<----------
ISML 2012 Bottom 8!
---------->#16
Character Cards & Signature Slivers Made by Marinara, Hikari-chan & melange


Participant from 2008-2012
Incubator

Posts: 3978
Joined: Mon Apr 19, 2010 3:35 am
Worships: Moriya Suwako's hat
Melon Pan: 50
2017 Female Favorite: Darkness
2017 Male Favorite: Roy Mustang
2016 Female Favorite: Kongō
2016 Male Favorite: Iskandar
Wish: A third season of Spice and Wolf.
Cards: Kordosa's Cards
Location: Mississippi, USA
Contact:
I lament the fact that I didn't get into Touhou until four months ago. Oh well. I'll be taking that Alice poster.
Cirno wrote:*sinister laugh* Winning by only 47 votes is all part of my master plan. Now everyone will think I'm weak when, in fact, I'm the strongest. And then, when they least expect it, I'll strike back and take over the entire ISML. It's foolproof. Hahahaha, I'm such a genius!
Crisu wrote:And, of course, never merge an anti-cookie with a normal cookie. Serious consequence will occur.
shiraoky wrote:I'm always squeeing lol.
Metaler wrote:Seriously, if you're gonna do something badly, then don't bother doing it. It's like when you take a dump: you don't show it to other people specifically because it's shit!
Kordosa wrote:Protip: If a male high school student character is voiced by a female seiyuu, there is a 100% probability that that character will be forced to crossdress at some point.
Translator

Posts: 2278
Joined: Mon Jun 01, 2009 6:17 pm
Badges:

Melon Pan: 92
Wish: It's a secret
Cards: Alexander's Cards
Location: Sea of Memories
Suddenly I want the High Res version of the pic used for Alisa's poster.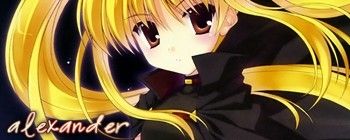 Incubator

Posts: 3613
Joined: Tue Mar 01, 2011 5:42 am
Worships: Rosario Cross
Melon Pan: 50
Wish: A very good tournament and more cookies. Moehood to reign
Cards: xcrossfacekillahx's Cards
Location: Planet Saimoe
Athena's and Alice's posters were the best