Hikarin's Kitty

Posts: 7428
Joined: Tue Feb 17, 2009 3:31 am
Worships: Kousaka Reina
Melon Pan: 50
2017 Female Favorite: Karasuma Chitose
2017 Male Favorite: Killua Zoldyck
Wish: Hikachu to not hate me
Cards: Tsumikitty's Cards
MAL Ratings ISML Chat, Saimoe Blog, Saimoe Wiki
A tall, towering wall looms in front of me. Beyond that is something that I could never to see on my own.
And that is...the view from the top.
Translator

Posts: 2278
Joined: Mon Jun 01, 2009 6:17 pm
Badges:

Melon Pan: 92
Wish: It's a secret
Cards: Alexander's Cards
Location: Sea of Memories
Mizuno Kaede one is the one I like the most.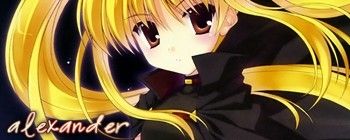 Incubator

Posts: 3720
Joined: Mon Nov 09, 2009 5:07 pm
Melon Pan: 55
Cards: hinakatbklyn's Cards
My preference says Mahoro, but I think the best one would be Natsume Rin
Titan

Posts: 5613
Joined: Sun Nov 22, 2009 1:58 am
Badges:

Melon Pan: 50
Wish: People who actually want to do their jobs.
Cards: Bastion's Cards
Location: existing
Contact:
Cat Girl Mizuno (and Tama) and Young Chichi
Jamie AB is open for business. How would you like your hare-brained scheme?
Confusing statements are fun :p
Medaka Kurokami wrote:People aren't meant to protect the rules, rules are meant to protect people
(*'////'*)


http://i979.photobucket.com/albums/ae27 ... nner-1.png
" onclick="window.open(this.href);return false;[/img]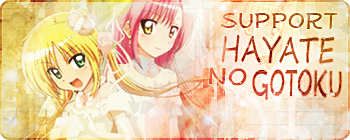 *Puts Nagi behind the drums and Hinagiku at the front with the mike and a guitar*
Banners made by
Midnight Jasper
&
Marinara
Kordosa wrote:I can just imagine all of the Hinagiku facepalming moments. That alone is worth it.
HnG chapter 333 pg 9 wrote:She (Hinagiku) realized an incredibly obvious but oft overlooked point: One had to read the manga before they could give their judgment of it.
ithekro wrote:Remember you aren't allowed to use your powers for evil.
With great power comes great responsibility
Absolute power corrupts absolutely
Tomoya Okazaki wrote:Can I beat you until you're motionless?
MegaTokyo wrote:Some of us are just a little more screwed up than others.
Saber (maglor) wrote:It is not how much, but it is where the king spends that tells what kind of king he is.
Rito wrote:Men don't decide whether they like someone or not based solely on breast size.
Kordosa wrote:Boy, I really need to learn to keep my questions to myself. It only makes things worse.
The lunatics around you are once again doing something to lower your opinion of human intelligence. ~
Face Palm
Your sense of time tells you how much of your life has been wasted because you didn't take us at our word. ~Cracked.com
Never attribute to malice that which can be adequately explained by stupidity.
Azu-nyan, Hina-chan, Aoyama-chan and Subaru-nyan-chan
Time traveler

Posts: 1558
Joined: Thu Feb 19, 2009 11:33 am
Worships: Rena
Melon Pan: 50
Wish: Becoming Pokemon Master.  Wishes for: Becoming teh Master Hater.  Wishes for: James' Victreebel & Mime Jr. Secret Identity: I am a robot. 
Cards: imbehindyou's Cards
Location: behind you
Enma Ai's poster <3
Moon princess

Posts: 3211
Joined: Wed Feb 18, 2009 2:43 am
Badges:

Worships: Bernkastel
Melon Pan: 50
Wish: dried plums to go with the tea.
Cards: Team Rocket Elite's Cards
I love the Presea poster. Yuki winning a necklace and Presea winning a match. We need to have more periods as awesome as Amethyst.
A miracle that you believe in when you know it won't happen......... is hope.
Paladin

Posts: 1097
Joined: Wed Jun 03, 2009 2:38 pm
Worships: Furude Hanyū
Melon Pan: 50
Wish: More free time
Cards: ilkaid's Cards
Location: Brighton, England
Contact:
The Natsume Rin and Mahoro posters are the best ones.
Electromaster

Posts: 6008
Joined: Fri May 14, 2010 1:18 am
Badges:

Worships: Setsumi Sakura
Melon Pan: 88
2018 Female Favorite: Nishimiya Shōko
2018 Male Favorite: Sagara Sōsuke
2017 Female Favorite: Megumin
2017 Male Favorite: Zen Wistalia
Wish: ISML - A new face for the champion.
KBM - to revive
AST - to encourage international participation
IRL - My definition of peace and tranquility.
Cards: Momento10's Cards
I like Enma's poster the most out of the other exhibition characters.
Puella magi

Posts: 4822
Joined: Sat Jan 16, 2010 2:09 pm
Melon Pan: 50
Wish: An ISML without harmonics
Cards: akumaxx's Cards
Location: Realm of Deceit
I redirected Mahoro's post to forum 'Ktxp'.
Best I thought so I choose.
== Low Activity ==
Current Soul: 269
Newest cards of Saimoe set: (Resized for signature use)