Paladin

Posts: 1097
Joined: Wed Jun 03, 2009 2:38 pm
Worships: Furude Hanyū
Melon Pan: 50
Wish: More free time
Cards: ilkaid's Cards
Location: Brighton, England
Contact:
Well I got the pecentage on the exhibition match very wrong, nevertheless Fuuko won which is good news =D
Gym leader

Posts: 173
Joined: Sun May 31, 2009 5:38 am
Melon Pan: 50
Cards: gaffer7's Cards
Location: depends
Wasn't really concerned about the results to this match, but I was pleased with the results nonetheless. Nice close victory for Fuuko, and wow, Mio's not looking quite as hot today as people have said. Let's see how this influences Round 7's match...
Moon princess

Posts: 3379
Joined: Wed Feb 18, 2009 3:44 am
Badges:

Worships: Fate Testarossa
Melon Pan: 105
2020 Female Favorite: Aisaka Taiga
2020 Male Favorite: Hei
2019 Female Favorite: Aisaka Taiga
2019 Male Favorite: Sakata Gintoki
2018 Female Favorite: Aisaka Taiga
2018 Male Favorite: Sakata Gintoki
Wish: Perpetual joy for friends and family
Cards: Fate's Cards
Location: Fate's bed
Contact:
Glad that Fate won.
Cherry blossom

Posts: 961
Joined: Sat Mar 21, 2009 5:58 am
Worships: Gilgamesh
Melon Pan: 50
Wish: Become a member of the Straw Hat crew.
Cards: Hetaliafan09's Cards
Claymore

Posts: 434
Joined: Sun May 03, 2009 9:35 pm
Worships: Hoshina Utau
Melon Pan: 50
Cards: Kairi's Cards
Location: Portugal.
Contact:
While I did not expect it, I'm happy that Fuko won. <3

Expected results I guess.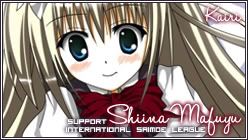 Soul gem

Posts: 4073
Joined: Mon Apr 19, 2010 3:35 am
Worships: Moriya Suwako's hat
Melon Pan: 50
2019 Female Favorite: Sakurajima Mai
2019 Male Favorite: Eugeo
2018 Female Favorite: Yamada Elf
2018 Male Favorite: Willem Kmetsch
Wish: A third season of Spice and Wolf.
Cards: Kordosa's Cards
Location: Mississippi, USA
Contact:
Starfish Power!
Cirno wrote:*sinister laugh* Winning by only 47 votes is all part of my master plan. Now everyone will think I'm weak when, in fact, I'm the strongest. And then, when they least expect it, I'll strike back and take over the entire ISML. It's foolproof. Hahahaha, I'm such a genius!
Crisu wrote:And, of course, never merge an anti-cookie with a normal cookie. Serious consequence will occur.
shiraoky wrote:I'm always squeeing lol.
Metaler wrote:Seriously, if you're gonna do something badly, then don't bother doing it. It's like when you take a dump: you don't show it to other people specifically because it's shit!
Kordosa wrote:Protip: If a male high school student character is voiced by a female seiyuu, there is a 100% probability that that character will be forced to crossdress at some point.