Shinigami

Posts: 2453
Joined: Mon Apr 04, 2011 9:59 am
Worships: Tamura Manami // Nagato Yuki // Aisaka Taiga
Melon Pan: 50
Wish: MUFC to win the treble of Premier League, FA cup and UEFA Champions league in the 2013/2014 season.
Cards: Eclairs's Cards
Location: Somewhere under the warm and fuzzy sun
Yuck, 2 mistakes costed me dearly ... Exhibition and Tier 7

Thanks a lot to

Hikari-Chan

,

Midnight-Jasper

and ppizzapie for the awesome signatures and slivers.
"Take caution thy children, for thou art guilty of sin if thou does not fappeth to the lolis!" Bob 23:29-192
Temple priestess

Posts: 66
Joined: Tue Jan 26, 2010 1:10 am
Melon Pan: 50
Cards: Last Sinner's Cards
I don't believe this...how the flock did I get #1 for this round?!

This is ridiculous...4th in E1, then I get 0 in E2, 1 in E3, then 2nd in E4 and now 1st in E5....

Dammit, if only I had one crap round instead of two....I don't think that one-use per season wipe-a-round pass would help me enough to be in contention for the top 3.

The irony of bouncing between top and bottom...KS must find this amusing.
Space pirate

Posts: 386
Joined: Tue Apr 05, 2011 6:26 pm
Melon Pan: 50
Cards: Deathscyther's Cards
I can't see the results...
'This image or video has been moved or deleted'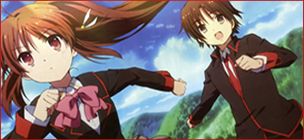 Hikarin's Kitty

Posts: 7461
Joined: Tue Feb 17, 2009 3:31 am
Badges:
Worships: Kousaka Reina
Melon Pan: 50
Wish: Hikachu to not hate me
Cards: Tsumikitty's Cards
Let's go with this one...maybe.
MAL Ratings, ISML Discord, Saimoe Blog, Saimoe Wiki
A tall, towering wall looms in front of me. Beyond that is something that I could never to see on my own.
And that is...the view from the top.
Space cowboy

Posts: 2997
Joined: Fri Apr 22, 2011 10:57 pm
Worships: Audrey Hepburn
Melon Pan: 50
Wish: adventure
Cards: HeartClover's Cards
Location: the internet
Oh goody, my score dropped even more~~
Thanks to my lovely Emjayfor the sig~
Soul gem

Posts: 4347
Joined: Fri Jun 10, 2011 10:51 pm
Melon Pan: 50
Wish: K-ON! Season 3
Cards: Jeffrey-sama's Cards
Location: AKB48 Theater
Contact:
This table means that, for Emerald 6, I didn't increase by 0.12 but by 0.29! (: