Hikarin's Kitty

Posts: 7457
Joined: Tue Feb 17, 2009 3:31 am
Worships: Kousaka Reina
Melon Pan: 50
Wish: Hikachu to not hate me
Cards: Tsumikitty's Cards
Yakuman wrote:So right abstain doesn't give two full points on Q6 and Q7?
Scoring is complicated, isn't it?
MAL Ratings ISML Chat, Saimoe Blog, Saimoe Wiki
A tall, towering wall looms in front of me. Beyond that is something that I could never to see on my own.
And that is...the view from the top.
Moon princess

Posts: 3211
Joined: Wed Feb 18, 2009 2:43 am
Badges:

Worships: Bernkastel
Melon Pan: 50
Wish: dried plums to go with the tea.
Cards: Team Rocket Elite's Cards
Not exactly what I needed but I guess not too bad either.
A miracle that you believe in when you know it won't happen......... is hope.
Railgun

Posts: 730
Joined: Wed Jun 01, 2011 11:45 am
Worships: Troll-sama (superunature)
Melon Pan: 50
Wish: Become the Lord of Spammers, tormenting the fake king, bullying clovie to death,Jeff fail at everthing he does and superu's cat get revived
Cards: KawanCido's Cards
Location: bakin-bakin
lucky i own the 0 correct answer
Joker:

Ruri;Gokou

& Ace:

Tachibana;Kanade

Time traveler

Posts: 1558
Joined: Thu Feb 19, 2009 11:33 am
Worships: Rena
Melon Pan: 50
Wish: Becoming Pokemon Master.  Wishes for: Becoming teh Master Hater.  Wishes for: James' Victreebel & Mime Jr. Secret Identity: I am a robot. 
Cards: imbehindyou's Cards
Location: behind you
haha that was terrible but I didn't expect much from my fantasy performance anyways :/
Void mage

Posts: 1467
Joined: Sun Jun 28, 2009 12:57 pm
Worships: Ichinose Kotomi
Melon Pan: 50
Cards: Umi's Cards
Contact:
good round. overall score sucks though.
and still failing at predicting exhibition results. -_____-
Shinigami

Posts: 2453
Joined: Mon Apr 04, 2011 9:59 am
Worships: Tamura Manami // Nagato Yuki // Aisaka Taiga
Melon Pan: 50
Wish: MUFC to win the treble of Premier League, FA cup and UEFA Champions league in the 2013/2014 season.
Cards: Eclairs's Cards
Location: Somewhere under the warm and fuzzy sun
Lol, horrible score. Only ONE right answer

Thanks a lot to

Hikari-Chan

,

Midnight-Jasper

and ppizzapie for the awesome signatures and slivers.
"Take caution thy children, for thou art guilty of sin if thou does not fappeth to the lolis!" Bob 23:29-192
Intelligent device

Posts: 1369
Joined: Mon Jul 05, 2010 2:06 am
Melon Pan: 50
Wish: To go to heaven
Cards: loudmouth's Cards
Pretty bad
there goes my chance for ruby lol
Mad scientist

Posts: 1016
Joined: Tue Mar 29, 2011 4:20 pm
Melon Pan: 50
Wish: A better life
Cards: Chikara Icy's Cards
Location: Indonesia
Contact:
Soul gem

Posts: 4347
Joined: Fri Jun 10, 2011 10:51 pm
Melon Pan: 50
Wish: K-ON! Season 3
Cards: Jeffrey-sama's Cards
Location: AKB48 Theater
Contact:
*facepalm*
There goes my 2nd place...
Paladin

Posts: 1097
Joined: Wed Jun 03, 2009 2:38 pm
Worships: Furude Hanyū
Melon Pan: 50
Wish: More free time
Cards: ilkaid's Cards
Location: Brighton, England
Contact:
28th still bouncing up and down :/
Intelligent device

Posts: 1355
Joined: Sun Dec 27, 2009 5:32 am
Worships: Reimu Hakurei
Melon Pan: 50
Wish: A happy and peaceful life.
Cards: bluemage's Cards
Location: Canada
Contact:
I kind of forgot about this after checking it on Friday because of my terribad performance.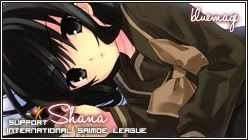 #1<----------
ISML 2012 Top 8!
---------->#8
----------
#8<----------
ISML 2012 Bottom 8!
---------->#16
Character Cards & Signature Slivers Made by Marinara, Hikari-chan & melange


Participant from 2008-2012