maglor wrote:Is Kuroyukihime's path to 2014 Ruby necklace the most dramatic ever?
A lot of things needed to happen for her to come out on top
Like Kanade/Kuroneko, Kuroneko too low on points to enter necklace, DAL split, Eu > Ayase > Shana triangle, Mikoto / Mashiro, Hime > Asuna, Rikka loss.
Looking at the NM I guess that if Asuna had won then she would have taken the necklace for sure.
This is certainly dramatic
Show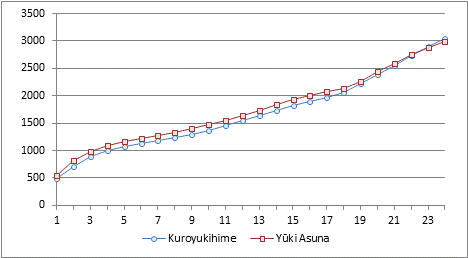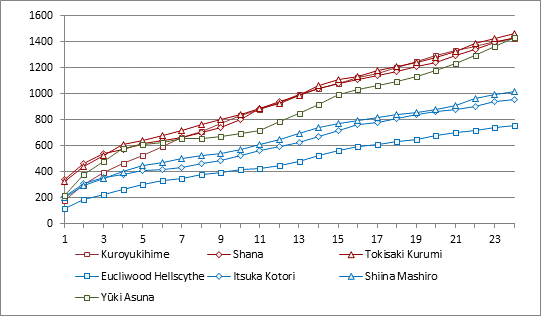 KYH starts in 6th place after one hour and her votes rise hugely for about half of the day.
But Asuna's line is really crazy. She gets two enormous boosts contrasted with tiny gains between hours 5 - 11.
Fuijiwara wrote:Also
if I'm not wrong, Rikka faces Asuna in Round 7 in Emerald, so that is her last chance at a necklace
Kurumi is up against Yoshioka, KYH to Kotori.

Mashiro will face Eucliwood or Ayase next round, while Mikoto faces Kanade or Ruri. If Mashiro faces Ayase next round, Emerald 7, and Mikoto faces Kanade, then Ruri faces Eucliwood
I'm 100% sure that Mikoto / Kanade will be saved for T7. So Kuroneko will probably be shut out next round too. *giggles maniacally*