Hikarin's Kitty

Posts: 7428
Joined: Tue Feb 17, 2009 3:31 am
Worships: Kousaka Reina
Melon Pan: 50
2017 Female Favorite: Karasuma Chitose
2017 Male Favorite: Killua Zoldyck
Wish: Hikachu to not hate me
Cards: Tsumikitty's Cards
MAL Ratings ISML Chat, Saimoe Blog, Saimoe Wiki
A tall, towering wall looms in front of me. Beyond that is something that I could never to see on my own.
And that is...the view from the top.
Incubator

Posts: 3720
Joined: Mon Nov 09, 2009 5:07 pm
Melon Pan: 55
Cards: hinakatbklyn's Cards
Translator

Posts: 2278
Joined: Mon Jun 01, 2009 6:17 pm
Badges:

Melon Pan: 92
Wish: It's a secret
Cards: Alexander's Cards
Location: Sea of Memories
Like the Miku one.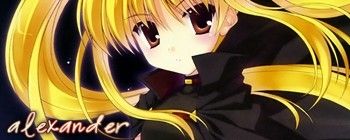 Moon princess

Posts: 3211
Joined: Wed Feb 18, 2009 2:43 am
Badges:

Worships: Bernkastel
Melon Pan: 50
Wish: dried plums to go with the tea.
Cards: Team Rocket Elite's Cards
I like the Cross Yuuki one best.
A miracle that you believe in when you know it won't happen......... is hope.
Electromaster

Posts: 6008
Joined: Fri May 14, 2010 1:18 am
Badges:

Worships: Setsumi Sakura
Melon Pan: 88
2018 Female Favorite: Nishimiya Shōko
2018 Male Favorite: Sagara Sōsuke
2017 Female Favorite: Megumin
2017 Male Favorite: Zen Wistalia
Wish: ISML - A new face for the champion.
KBM - to revive
AST - to encourage international participation
IRL - My definition of peace and tranquility.
Cards: Momento10's Cards
I would enlarge Sakura's picture, attempt to make a poster of it, and place it on my wall. Yuuki, Miku, and Rukia look nice as well.
Time traveler

Posts: 1558
Joined: Thu Feb 19, 2009 11:33 am
Worships: Rena
Melon Pan: 50
Wish: Becoming Pokemon Master.  Wishes for: Becoming teh Master Hater.  Wishes for: James' Victreebel & Mime Jr. Secret Identity: I am a robot. 
Cards: imbehindyou's Cards
Location: behind you
I like Sakura & Rukia's the best.
Necromancer

Posts: 881
Joined: Thu Feb 04, 2010 8:07 am
Worships: Sanzen'in Nagi
Melon Pan: 50
Wish: Want Nagi to win this year ISML....
And 1 Million bucks....
Cards: Wolfnagi's Cards
Location: Within a multi-verse
Contact:
Skura & Rukia looks nice,
Miku looks, fanmade.....
And the rest are average......




Paladin

Posts: 1097
Joined: Wed Jun 03, 2009 2:38 pm
Worships: Furude Hanyū
Melon Pan: 50
Wish: More free time
Cards: ilkaid's Cards
Location: Brighton, England
Contact:
All of them are really nice but the Sakura and Miku one's are the best
Assassin

Posts: 543
Joined: Sat May 28, 2011 5:36 am
Worships: Madoka
Melon Pan: 50
Wish: me to be in an anime.
All-time Favorite:
Tachibana Kanade
Cards: Cross's Cards
Location: ISML lair
cool for Sakura and Rukia! I like Yuuki as well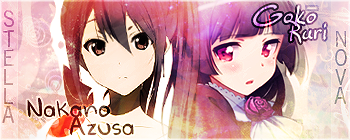 Support ISML + My All-time Favorite
Show