Space cowboy

Posts: 2968
Joined: Thu Sep 23, 2010 12:11 pm
Worships: C.C.
Melon Pan: 50
Wish: Something amazing to happen...
Cards: Sedon's Cards
Location: changing every second
Joshiraku
---



Credits to:


Energetic

Hikari-chan

for the slivers


MultiLing Keyboard Madness ⊇≪☜∵↖ⓢⓔⓓⓞⓝ↗∴☞≫⊆
Mayushii~ + Kuristina-HomuHomu
Show

Thanks to Midnight-Jasper for Mayushii~ sig and awesome Momokutenshi for the Kuristina-HomuHomu sig~ <3
Lost but not forgotten~ Tu tu ruu~!
Bandit

Posts: 72
Joined: Tue May 01, 2012 2:09 am
Melon Pan: 50
Cards: miyaku2's Cards
K Project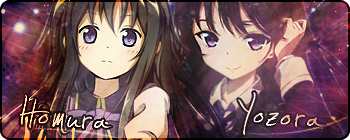 Thanks to Midnight-Jasper and Hikari-chan for the amazing sigs&slivers:)
Spirit hunter

Posts: 2187
Joined: Fri Jul 13, 2012 6:22 am
Worships: Kotomi of course
Melon Pan: 50
Wish: Everyone in the world to realize the greatness of durians
Cards: DurianDude's Cards
Location: At the Tomato Market
Contact:
Lucky Star!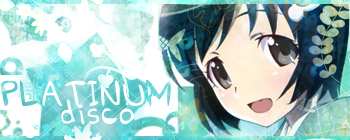 Translator

Posts: 2285
Joined: Mon Jun 01, 2009 6:17 pm
Badges:

Melon Pan: 92
Wish: It's a secret
Cards: Alexander's Cards
Location: Sea of Memories
Mahou Shoujo Lyrical Nanoha A's
Incubator

Posts: 3613
Joined: Tue Mar 01, 2011 5:42 am
Worships: Rosario Cross
Melon Pan: 50
Wish: A very good tournament and more cookies. Moehood to reign
Cards: xcrossfacekillahx's Cards
Location: Planet Saimoe
~Moon Rider~

Posts: 2914
Joined: Fri Jan 27, 2012 5:41 am
Badges:

Melon Pan: 211
2018 Female Favorite: Diamond
2018 Male Favorite: Ciel Phantomhive
Wish: to not get what i don't deserve & wildin'
Cards: kukimunstir's Cards
Contact:
Ore no Imouto ga Konna ni Kawaii Wake ga Nai

After all, to me the most important thing is that you're truthful - claire.
Wise wolf

Posts: 1609
Joined: Sat Apr 23, 2011 2:13 am
Badges:

Worships: xtina
Melon Pan: 50
Wish: christina aguilera to go on tour
Cards: DarknessHid's Cards
Location: Faerieland
Puchimas!
— thank you santa —