~Eye of Twilight~

Posts: 1391
Joined: Tue Sep 24, 2013 6:46 am
Badges:
Worships: Yaya, Asseylum, Hestia, Nao, Rory, Albedo and Stella Vermillion
Melon Pan: 45
2020 Male Favorite: Kurogane Ikki
2019 Female Favorite: Sakurajima Mai
2018 Female Favorite: Yaya
Wish: To tell the fans of Porsche, Subaru, Honda, Chevrolet, Can-Am On-Road and ROG Phone, ROG Phone 2 and ROG Phone 3 to join ISML and get those Turkeys off the Thanksgiving Menu
Cards: RichardJoash's Cards
Location: Bahayang Pag-Asa, Bacoor Cavite, The Philippines
Contact:
Thank you!~
Kono Hoshi o Nameru na yo!
Sankyuu, Hikarin!
From my secret santa
~Blood Hunter~

Posts: 1126
Joined: Sat Nov 26, 2016 3:00 pm
Badges:
Melon Pan: 0
2020 Female Favorite: Chtholly Nota Seniorious
2020 Male Favorite: Willem Kmetsch
2019 Female Favorite: Violet Evergarden
2019 Male Favorite: Azusagawa Sakuta
2018 Female Favorite: Nishimiya Shōko
2018 Male Favorite: Satomi Rentarō
Cards:
Location: Neverland
Contact:
And Happy Birthday to
@Hachiko
, who the most "active" members in this forum
My Forumoe Signature Archive
Show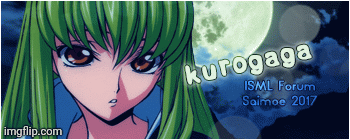 Heavenly Tiara

Posts: 16395
Joined: Sat Aug 08, 2009 11:27 pm
Worships: Kaname Madoka
Melon Pan: 50
2020 Female Favorite: Aisaka Taiga
2020 Male Favorite: Agatsuma Zen'itsu
2019 Female Favorite: Kaname Madoka
2019 Male Favorite: Azusagawa Sakuta
2018 Female Favorite: Chtholly Nota Seniorious
2018 Male Favorite: Hikigaya Hachiman
Wish: An awesome 2020 ISML.
Cards: Hachiko's Cards
Location: Long Beach, California
Contact:
Thanks for all your birthday wishes. Love you~~~~~!
Kunoichi

Posts: 7
Joined: Mon Sep 14, 2020 11:09 am
Badges:
Melon Pan: 50
2020 Female Favorite: Ereshkigal
2020 Male Favorite: Emiya Kiritsugu
2019 Female Favorite: Doma Umaru
2019 Male Favorite: Emiya Kiritsugu
2018 Female Favorite: Antarcticite
2018 Male Favorite: Akasaka Ryūnosuke
Wish: Peace all over the world!
Cards:
Today is also my birthday
I hope that all of you are fine and wish you a great mood
Electromaster

Posts: 6202
Joined: Fri May 14, 2010 1:18 am
Badges:

Worships: Setsumi Sakura
Melon Pan: 88
2020 Female Favorite: Sakurajima Mai
2020 Male Favorite: Ishigami Yū
2019 Female Favorite: Tōma Kazusa
2019 Male Favorite: Ayanokōji Kiyotaka
2018 Female Favorite: Nishimiya Shōko
2018 Male Favorite: Sagara Sōsuke
Wish: My definition of peace and tranquility.
Cards: Momento10's Cards
Happy birthday to xsarinxtin, priyanka2468 (29), kagashogo (27), Grish (26), chubby (23), Remlinlin (17)
Electromaster

Posts: 6202
Joined: Fri May 14, 2010 1:18 am
Badges:

Worships: Setsumi Sakura
Melon Pan: 88
2020 Female Favorite: Sakurajima Mai
2020 Male Favorite: Ishigami Yū
2019 Female Favorite: Tōma Kazusa
2019 Male Favorite: Ayanokōji Kiyotaka
2018 Female Favorite: Nishimiya Shōko
2018 Male Favorite: Sagara Sōsuke
Wish: My definition of peace and tranquility.
Cards: Momento10's Cards
Happy birthday to Toady (30), misaka&yuki (25)
Electromaster

Posts: 6202
Joined: Fri May 14, 2010 1:18 am
Badges:

Worships: Setsumi Sakura
Melon Pan: 88
2020 Female Favorite: Sakurajima Mai
2020 Male Favorite: Ishigami Yū
2019 Female Favorite: Tōma Kazusa
2019 Male Favorite: Ayanokōji Kiyotaka
2018 Female Favorite: Nishimiya Shōko
2018 Male Favorite: Sagara Sōsuke
Wish: My definition of peace and tranquility.
Cards: Momento10's Cards
Happy birthday to maglor (51)
Electromaster

Posts: 6202
Joined: Fri May 14, 2010 1:18 am
Badges:

Worships: Setsumi Sakura
Melon Pan: 88
2020 Female Favorite: Sakurajima Mai
2020 Male Favorite: Ishigami Yū
2019 Female Favorite: Tōma Kazusa
2019 Male Favorite: Ayanokōji Kiyotaka
2018 Female Favorite: Nishimiya Shōko
2018 Male Favorite: Sagara Sōsuke
Wish: My definition of peace and tranquility.
Cards: Momento10's Cards
Happy birthday to CrowKenobi, Jstn18 (32), CureRainbow (24)
Electromaster

Posts: 6202
Joined: Fri May 14, 2010 1:18 am
Badges:

Worships: Setsumi Sakura
Melon Pan: 88
2020 Female Favorite: Sakurajima Mai
2020 Male Favorite: Ishigami Yū
2019 Female Favorite: Tōma Kazusa
2019 Male Favorite: Ayanokōji Kiyotaka
2018 Female Favorite: Nishimiya Shōko
2018 Male Favorite: Sagara Sōsuke
Wish: My definition of peace and tranquility.
Cards: Momento10's Cards
Happy birthday to sirwence (35), Dandelion (26), NgocDLHLV (22)
Electromaster

Posts: 6202
Joined: Fri May 14, 2010 1:18 am
Badges:

Worships: Setsumi Sakura
Melon Pan: 88
2020 Female Favorite: Sakurajima Mai
2020 Male Favorite: Ishigami Yū
2019 Female Favorite: Tōma Kazusa
2019 Male Favorite: Ayanokōji Kiyotaka
2018 Female Favorite: Nishimiya Shōko
2018 Male Favorite: Sagara Sōsuke
Wish: My definition of peace and tranquility.
Cards: Momento10's Cards
Happy birthday to Chibasa (25)