For those who follow my posts/chatzy...you would know that I was personally hyped for this series much more than Neptunia or Prisma Illya.
Not only that, but with a few intriguing elements in the animation such as murder, mystery and trial. They would make a good discussion thread.
I will update OP each week to include a quick recap of each episode- in spoiler tags ofc- and we can discuss each episode, or even speculate what may happen.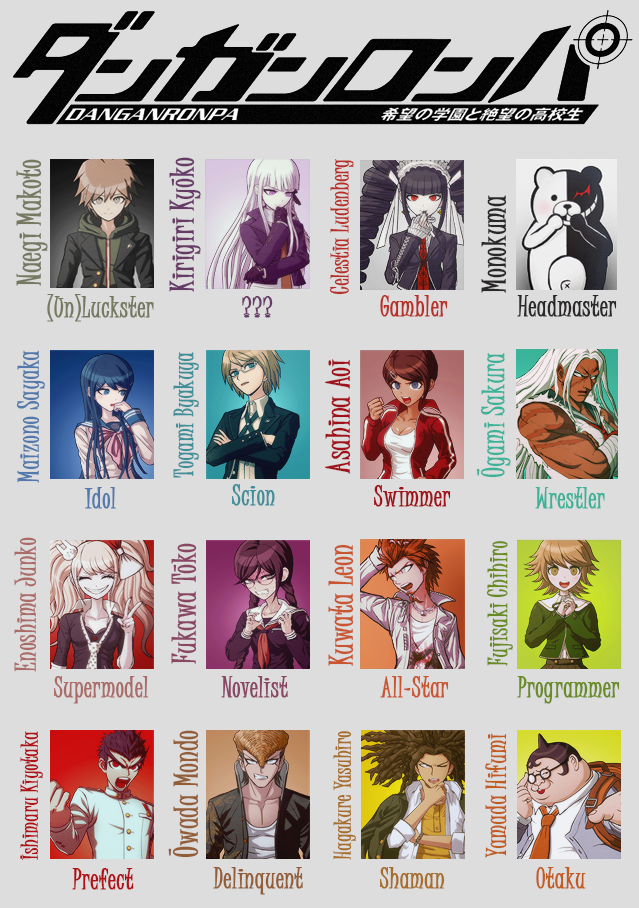 Recap
Episode 1- The Prologue
Show
-15 students receive admittance to Peak Hope Academy, which is supposed to enlist the best of the best (think R-15- who gathers geniuses from a multitude of fields)
- But everything inside was not what it seems from the outside
- The principal revealed to the students that the only way to leave the school was to murder* another student
- Episode ended with the principal giving everybody a reason to escape the premises via a personal video.
additional notes for episode 1
Show
* in order to leave, assume that the student must murder another person- while also not being identified as the killer by the other survivors
Surviving cast after episode 1
Show
count: 15/15
-(Un)Luckster
- Idol
- Model
- Hacker
- Gambler
- Fighter
- Bookworm
- Biker/Delinquent
- Disciplinary Officer
- Swimmer
- Fortune Teller
- Heir
- Mangaka
- Athlete
- Unknown Talent
Episode 2- The First Night
Show
- Monokuma fitted each room various weapons that can be used for others to kill (it can be presumed that other weapons are scattered across the school)
- Maizono and Naegi decided to swap rooms for a night because Maizono believes someone may be after her
- As morning passes, Maizono's body was found, killed, in Naegi's bathroom
- Junko committed a crime against Monokuma, and gets executed on the spot in front of everyone
- a new tab unlocked in the student's PDA, regarding the murder cases
- Various clues (and misleads) are shown as the rest of the survivors investigated prior to the class trial
- A dying message was left by Maizono's body, and articles of clothing and glass fragment by the incinerator
- Kirigiri discovered something odd when match room assignment by name plate, and on the PDA map.
- Maizono's DVD shows something very dark to Naegi
- As the trial is about to start, everyone seems to have already made up their on who the victim is (Naegi), but there be a person on her side
Survivors after Episode 2
Show
Count: 13/15
-(Un)Luckster
- Hacker
- Gambler
- Fighter
- Bookworm
- Biker/Delinquent
- Disciplinary Officer
- Swimmer
- Fortune Teller
- Heir
- Mangaka
- Athlete
- Unknown Talent
-Idol (murdered by _____________)
- Model (executed by Monokuma)
Episode 3- The First Trial
Show
- Class Trial begins with the survivors recalling details of the night of the murder
- Aoi and Sakura (Swimmer,Fighter) were in the kitchen when Sayaka went inside (note: the murder weapon was the missing kitchen knife)
- Kirigiri (????) mentioned that about the nameplate swap and a note from Sayaka that Kirigiri managed to recreate
- Sayaka's murder attempt and plan was brought to light- clearing Naegi's name at the same time
- Naegi mentions about the poorly fitted bathroom door
- The dying message flipped 180 degrees reads 'LEON', as in the SDHS Baseball player
- Naegi brings up the evidence found near the incinerator and theorizes how someone with certain skills can access it during off limit hours
- At this point, Leon (baseball) was already broken...but the final piece of evidence goes back the bathroom door and each person's tools.
- Leon, found guilty, executed by Monokuma
Survivors after episode 3
Show
Count: 12/15
-(Un)Luckster
- Hacker
- Gambler
- Fighter
- Bookworm
- Biker/Delinquent
- Disciplinary Officer
- Swimmer
- Fortune Teller
- Heir
- Mangaka
- Unknown Talent
- Idol (murdered by Leon, the baseball player)
- Model (executed by Monokuma as Punishment)
- Baseball Player (executed by Monokuma, for being found guility
Episode 4- A New World
Show
As a reward for successfully completing the first trial, access to the 2nd floor of the building was granted. Rooms included are the gym(workout room) and library.
Togami (Heir) causes a divide within the group with his view, that only Celestial (Gambler) seem to agree
The Heir started reading books of murderers while the programmer takes the computer to presumably fix and try to get it working
Biker and Hall Monitor challenged each other to a duel, and became best buds for life in the process
Bookworm fell for the heir, as currently in a completely one sided love relationship
Celestial also picked up a shipping with the otaku, making him her slave in the process
Monokuma does it again, giving people a potential motive to murder someone in order to keep their secrets a silence
and...the Programmer was killed the following day.
Killed by a blunt object to the head on the 2nd floor gym and crucified in a unique method.
Killing method is similar to that of a certain serial killer in the open world, where the most hideous method are only known to a few
Survivors after episode 4
Show
Count: 11/15
-(Un)Luckster
- Gambler
- Fighter
- Bookworm
- Biker/Delinquent
- Disciplinary Officer
- Swimmer
- Fortune Teller
- Heir
- Mangaka
- Unknown Talent
- Idol (murdered by Leon, the baseball player)
- Hacker (murdered by ______________)
- Model (executed by Monokuma as Punishment)
- Baseball Player (executed by Monokuma, for being found guility
Possible Discussion Topic(s):
- Who will be killed off first (if any)
- Who will be the first murderer (if any)
- What do you think will happen next episode
- What did you think of this episode
- Did you catch any clues in the latest episode that may be used in future episodes/incidents
- Did you catch any pop culture references in the episode (character design, dialogue, signs, whatever)