DATE OF LAST UPDATE: FEBRUARY 26, 2009
WHAT WAS UPDATED: Description on Nanoha
Looks like I have the go ahead to post this.
The purpose of this thread is to compare and contrast my own regular season predictions with Kaito's as well as any other member who wishes to predict the final finishing SEED order of the regular season.
Since Kaito has only half of his posted for the time being, I'll start with my own predictions, and I will add Kaito's predicted finishing order and a handful of his comments on to this post.
So, here is how I believe the regular season will play out:
Minhtam's predictions
Show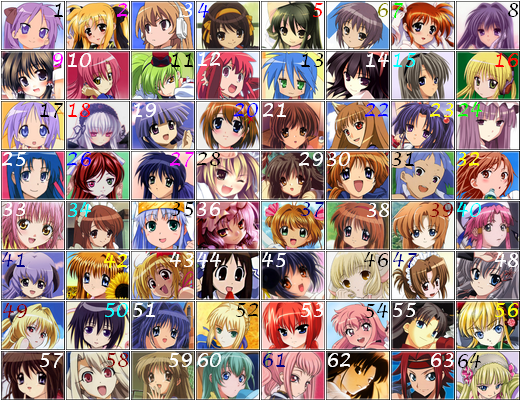 #1: Hiiragi Kagami (LS)
Kaito has stated that Kagami will retain her superiority, and that's entirely true, but you have to remember that out of the "Elite 7" that dominated the regular season last year, she was 7th out of 7th, mainly because she went (2-4) against the other 7. Add to that that her only other loss was to Kotomi, and we have a recipe for real dominance. She may be a target early on, but thanks to a certain rabid Tsukasa voter, Kagami's also going to have the edge early on, especially against some of the weaker voters. The only candidates I see her losing to for sure... well... maybe Fate, Taiga, or Shana, and possibly Haruhi, but anybody ranked 9th and below probably will have a guaranteed loss to Kagami, for sure.

#2: Fate Testarossa (MSLN)
Look at the current roster, and it is hard to believe that Fate doesn't have a good shot at going undefeated. But this is where winning a championship will prevent her from the #2 seed: her championship defense will start off as a slight struggle, where she could be prone to some unexpected upsets in Aquamarine and Topaz coupled with a possible loss to Haruhi. Still, however, that means she would go undetected and will probably take the Tomoyo route, dominating her way to (9-0) records, possibly without winning one necklace at all, and slowly rise to the #2 seed.

#3: Aisaka Taiga (TD)
From what we've seen from the preliminaries so far, Taiga is the only one who matched wits with the Touhou candidates, and that's from the GROUP matches. Granted that the Touhou candidates would suffer heavily from "purist voting", Taiga would remain as the dominating newcomer from the preliminary rounds that can give these veterans a run for her money. At this point, she could probably struggle with a top 7 predicted candidate not named "Shana", so some losses could be expected for her. Add to that a possible upset from C.C. and Hinagiku, and she may fall to the lower half of the top 8. Still, she's a strong contender and the likely favorite from the non-champions crowd to win the ISML crown.

#4: Suzumiya Haruhi (SHnY)
How many times should Haruhi come close to a title and not win one, especially being the head representative of an extremely successful franchise? Haruhi has the phrase dominance written all over her resume, but that hasn't come without heartbreak. Unfortunately, Haruhi has struggled to nail two other candidates: Yuki, a strong Tier 1 candidate who has Haruhi's movements down flat, and, Konata, currently ranked #13 on this list, who has been able to match her every move. Apart from this, I am pretty sure she'll defeat Kyou, and anybody from the second row down who isn't Konata would be expecting a loss to Haruhi. Haruhi will probably remain focused on the front 7, some of which can ultimately be a close loss depending on how the necklace races run out.

#5: Shana (SnS)
So far, it's been really hard to get rid of Shana as of late. In single-elimination tourneys in Japan and Korea, she's been hard to take down until the latter stages, so I find it extremely hard to believe she will fizzle here. And, KSBM outstanding, I don't believe she has ever finished outside the top 16. Still, we should come to expect Shana fall through a series of heartbreaks - Fate could have her beat, Haruhi might edge her a little bit, and that tricky newcomer Taiga is going to be way too hard to figure out. Couple that with a Hinagiku, C.C., and/or Konata upset some where down the road, and it will be hard for Shana to crack a top 4 seed. Still, expect her to be a lock for a top 8 seed. Now whether she or Taiga will be the Kugimiya representative in double-elimination will depend on the release date of her upcoming third season...

#6: Nagato Yuki (SHnY)
Yuki has been a strong candidate most of the time, but unfortunately not all of the time. Sure, she has Haruhi's number, and she knows how to get around her superior in terms of SOS, but aside from that, she's also been the most inconsistent. Yes, she has beaten Fate AND Kagami, but aside from Shana, all of her losses last year have come at the hands of KEY candidates, most notably Ayu and Mai, who are projected to absolutely not do well this year. She's fine as she is now, and a top 6 seed will play to her advantage down the road, but if she wants to further guarantee herself to a surefire high vs. low seed victory, she'll have to figure out Kanon and Clannad first.

#7 Takamachi Nanoha (MSLN)
There's a reason why I've left Nanoha at the seventh seed. Surely, we have seen that last year, Nanoha didn't have as much firepower as last year's Elite 7, and that should continue through the first few periods of Aquamarine, Topaz, and Amethyst. However, if there's one thing that will prove to be more beneficial for her than not, it's the upcoming Nanoha movie in theatres this summer that will prove to be a major hit, even if it won't hit the internet until sometime during double-elimination. The hype surrounding it alone should be enough to elevate her to one of the emerging candidates to beat. Unfortunately, since the only way to move ahead at the top of the leaderboard is to have others move back, it would be tough for her to narrow the gap between herself and her friend Fate, who should also get this boost, this is probably where she'll end up.
I'll update this post regularly.