Assassin

Posts: 543
Joined: Sat May 28, 2011 5:36 am
Worships: Madoka
Melon Pan: 50
Wish: me to be in an anime.
All-time Favorite:
Tachibana Kanade
Cards: Cross's Cards
Location: ISML lair
Where is the 2012 Prelim Campaign thread?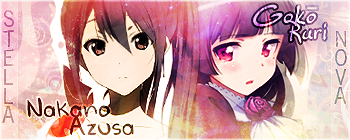 Support ISML + My All-time Favorite
Show
Shinigami

Posts: 2415
Joined: Wed Feb 18, 2009 8:33 pm
Badges:

Worships: Evangeline McDowell
Melon Pan: 50
Wish: Future UQ Holder anime adaptation is done right.
Cards: chaosprophet's Cards
Location: Brasil
Contact:
Sorry for the delay, it will be created shortly.