Cherry blossom

Posts: 960
Joined: Sat Mar 21, 2009 5:58 am
Worships: Gilgamesh
Melon Pan: 50
2017 Female Favorite: C.C.
2017 Male Favorite: Monkey D. Luffy
Wish: Become a member of the Straw Hat crew.
Cards: Hetaliafan09's Cards
Gil-kun is moe.

The universe agrees.
Moon princess

Posts: 3211
Joined: Wed Feb 18, 2009 2:43 am
Badges:

Worships: Bernkastel
Melon Pan: 50
Wish: dried plums to go with the tea.
Cards: Team Rocket Elite's Cards
A strong performance by Edward. He doesn't have any problems with Kyouya at all. Kyou tried hard but wasn't able to defeat Hideyoshi. Keima manages to rebound after a near loss to the strongest man in Ikebukuro. Feldt ends up narrowly losing to Fumika. It's too bad. I really liked Feldt's voice actress.

_____

Karisawa Erika

Secretary

ISML Seitokai
A miracle that you believe in when you know it won't happen......... is hope.
Titan

Posts: 5614
Joined: Sun Nov 22, 2009 1:58 am
Badges:

Melon Pan: 50
Wish: People who actually want to do their jobs.
Cards: Bastion's Cards
Location: existing
Contact:
I guess that two shows under his belt gave Gilgamesh an edge over Lancer (and Archer).
Trap over Harem?
Would have throught that the FF battle would have been closer, and got close with my second guess at the closest match.
Jamie AB is open for business. How would you like your hare-brained scheme?
Confusing statements are fun :p
Medaka Kurokami wrote:People aren't meant to protect the rules, rules are meant to protect people
(*'////'*)

http://i979.photobucket.com/albums/ae27 ... nner-1.png
" onclick="window.open(this.href);return false;[/img]

*Puts Nagi behind the drums and Hinagiku at the front with the mike and a guitar*
Banners made by
Midnight Jasper
&
Marinara
Kordosa wrote:I can just imagine all of the Hinagiku facepalming moments. That alone is worth it.
HnG chapter 333 pg 9 wrote:She (Hinagiku) realized an incredibly obvious but oft overlooked point: One had to read the manga before they could give their judgment of it.
ithekro wrote:Remember you aren't allowed to use your powers for evil.
With great power comes great responsibility
Absolute power corrupts absolutely
Tomoya Okazaki wrote:Can I beat you until you're motionless?
MegaTokyo wrote:Some of us are just a little more screwed up than others.
Saber (maglor) wrote:It is not how much, but it is where the king spends that tells what kind of king he is.
Rito wrote:Men don't decide whether they like someone or not based solely on breast size.
Kordosa wrote:Boy, I really need to learn to keep my questions to myself. It only makes things worse.
The lunatics around you are once again doing something to lower your opinion of human intelligence. ~
Face Palm
Your sense of time tells you how much of your life has been wasted because you didn't take us at our word. ~Cracked.com
Never attribute to malice that which can be adequately explained by stupidity.
Azu-nyan, Hina-chan, Aoyama-chan and Subaru-nyan-chan
Gym leader

Posts: 173
Joined: Thu Feb 26, 2009 11:18 am
Worships: Suigintou
Melon Pan: 50
Wish: Reach the top 5 sit
Cards: walyi's Cards
Location: Out of space
niwa87 wrote:

walyi wrote:Gil win...Umm I can understand... Accroding to thiers personalatity?

I you ask me, except in Carnival Phantasm, I would never like his personality. The only thing I like about him is his Gate of Babylon. He might be won because people know him better and longer than Lancer...

Overall, a surprise result for me. Totally outside my prediction. Well, since I'm satisfied with some result, it's an okay result...
I think you are right. But I am surprised that little people watch Fate/Zero?
Waiting for the internetional graph
Puella magi

Posts: 4822
Joined: Sat Jan 16, 2010 2:09 pm
Melon Pan: 50
Wish: An ISML without harmonics
Cards: akumaxx's Cards
Location: Realm of Deceit
Result on gunners:
Win: Fumika, Alicia
Lose: Vincent. Naoto may count but not revealed in TV now.

Others:
Y'know Keima is still active while Archer Emiya only appears in crossovers by the time.
And remember, Hideyoshi is that hideyoshi.
Gilgamesh is somehow annoying, at least in my known F/Z.
== Low Activity ==
Current Soul: 269
Newest cards of Saimoe set: (Resized for signature use)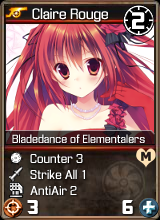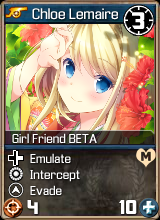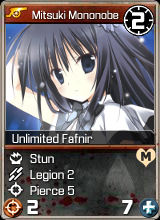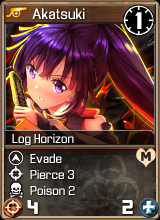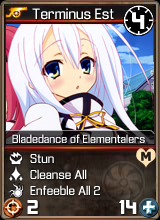 Shinigami

Posts: 2662
Joined: Wed Jun 01, 2011 2:38 pm
Worships: Izayoi Sakuya
Melon Pan: 50
Wish: Gotta nom 'em all!~
Cards: JLoable91's Cards
Location: Neo-Venezia
Contact:
Archer and Kyon ;_;
At least they lost to not shounen manga chars...
Now I want Hideyoshi or Lelouch to win it...

And I couldn't enter trivia again, because of I slept during it :/

Translator

Posts: 2285
Joined: Mon Jun 01, 2009 6:17 pm
Badges:

Melon Pan: 92
Wish: It's a secret
Cards: Alexander's Cards
Location: Sea of Memories
Only like 2 results while I hate another 3.
Gym leader

Posts: 173
Joined: Thu Feb 26, 2009 11:18 am
Worships: Suigintou
Melon Pan: 50
Wish: Reach the top 5 sit
Cards: walyi's Cards
Location: Out of space
The lucky of Lancer is always E.
Space cowboy

Posts: 2968
Joined: Thu Sep 23, 2010 12:11 pm
Worships: C.C.
Melon Pan: 50
Wish: Something amazing to happen...
Cards: Sedon's Cards
Location: changing every second
wahhh.. Kyon lost
and Archer as well
the only thing good for me is Aikawa winning.. not a very good round for me
---



Credits to:


Energetic

Hikari-chan

for the slivers


MultiLing Keyboard Madness ⊇≪☜∵↖ⓢⓔⓓⓞⓝ↗∴☞≫⊆
Mayushii~ + Kuristina-HomuHomu
Show

Thanks to Midnight-Jasper for Mayushii~ sig and awesome Momokutenshi for the Kuristina-HomuHomu sig~ <3
Lost but not forgotten~ Tu tu ruu~!
Space cowboy

Posts: 2997
Joined: Fri Apr 22, 2011 10:57 pm
Worships: Audrey Hepburn
Melon Pan: 50
Wish: adventure
Cards: HeartClover's Cards
Location: the internet
Bit late, but the results were (mostly) great~
Thanks to my lovely Emjayfor the sig~
Mahou shoujo

Posts: 14
Joined: Mon Nov 21, 2011 9:34 pm
Melon Pan: 50
Cards: aisu's Cards
Feldt....... ; ___; I'll love you forever!
Happy with 6 results, sad with 4.
Not too bad overall.