Shinigami

Posts: 2453
Joined: Mon Apr 04, 2011 9:59 am
Worships: Tamura Manami // Nagato Yuki // Aisaka Taiga
Melon Pan: 50
Wish: MUFC to win the treble of Premier League, FA cup and UEFA Champions league in the 2013/2014 season.
Cards: Eclairs's Cards
Location: Somewhere under the warm and fuzzy sun
Lelouch vs Hideyoshi finale. I guess I'll vote for Lelouch then.

Go go Homura!

Thanks a lot to

Hikari-Chan

,

Midnight-Jasper

and ppizzapie for the awesome signatures and slivers.
"Take caution thy children, for thou art guilty of sin if thou does not fappeth to the lolis!" Bob 23:29-192
Space cowboy

Posts: 2997
Joined: Fri Apr 22, 2011 10:57 pm
Worships: Audrey Hepburn
Melon Pan: 50
Wish: adventure
Cards: HeartClover's Cards
Location: the internet
Results are so-so.
Minene ;____;
Keima lost, boo.
But Sunohara won!~~

Oh, Hinata, Homura, and Kyouko in tomorrow's matches. I'll vote for Lelouch in the final.
Thanks to my lovely Emjayfor the sig~
Titan

Posts: 5614
Joined: Sun Nov 22, 2009 1:58 am
Badges:

Melon Pan: 50
Wish: People who actually want to do their jobs.
Cards: Bastion's Cards
Location: existing
Contact:
Would have expected some of these matches to be closer, and some to be further apart.
No real opinions on any of the specifics though.
Jamie AB is open for business. How would you like your hare-brained scheme?
Confusing statements are fun :p
Medaka Kurokami wrote:People aren't meant to protect the rules, rules are meant to protect people
(*'////'*)

http://i979.photobucket.com/albums/ae27 ... nner-1.png
" onclick="window.open(this.href);return false;[/img]

*Puts Nagi behind the drums and Hinagiku at the front with the mike and a guitar*
Banners made by
Midnight Jasper
&
Marinara
Kordosa wrote:I can just imagine all of the Hinagiku facepalming moments. That alone is worth it.
HnG chapter 333 pg 9 wrote:She (Hinagiku) realized an incredibly obvious but oft overlooked point: One had to read the manga before they could give their judgment of it.
ithekro wrote:Remember you aren't allowed to use your powers for evil.
With great power comes great responsibility
Absolute power corrupts absolutely
Tomoya Okazaki wrote:Can I beat you until you're motionless?
MegaTokyo wrote:Some of us are just a little more screwed up than others.
Saber (maglor) wrote:It is not how much, but it is where the king spends that tells what kind of king he is.
Rito wrote:Men don't decide whether they like someone or not based solely on breast size.
Kordosa wrote:Boy, I really need to learn to keep my questions to myself. It only makes things worse.
The lunatics around you are once again doing something to lower your opinion of human intelligence. ~
Face Palm
Your sense of time tells you how much of your life has been wasted because you didn't take us at our word. ~Cracked.com
Never attribute to malice that which can be adequately explained by stupidity.
Azu-nyan, Hina-chan, Aoyama-chan and Subaru-nyan-chan
[Countryside Loli]

Posts: 2791
Joined: Sat Apr 09, 2011 4:31 am
Badges:

Melon Pan: 0
Wish: Miracles
Cards: RegalStar's Cards
Ahaha, Kuroneko vs Homura.

I'm quite looking forward to the sound beating.

EDIT: seeing that we do have a reduced number of voters, and many of them seem to be more like the type I see in forums, Homura might get closer than she would in a regular exhibition match. Either way I don't really expect an upset, though I guess it doesn't matter so much either way.
Time traveler

Posts: 1558
Joined: Thu Feb 19, 2009 11:33 am
Worships: Rena
Melon Pan: 50
Wish: Becoming Pokemon Master.  Wishes for: Becoming teh Master Hater.  Wishes for: James' Victreebel & Mime Jr. Secret Identity: I am a robot. 
Cards: imbehindyou's Cards
Location: behind you
so the final is between one of my least favorite characters and ...a trap.
not interested </3
Moon princess

Posts: 3211
Joined: Wed Feb 18, 2009 2:43 am
Badges:

Worships: Bernkastel
Melon Pan: 50
Wish: dried plums to go with the tea.
Cards: Team Rocket Elite's Cards
I've compiled some statistics that some people may be interested in:
Chart 1:
Chart 2: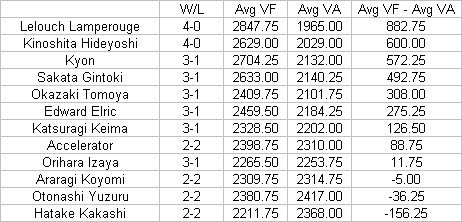 Both charts are for the 12 male tournament characters that have a match on the final day. The first chart includes their Round 1 three-way match while the second chart excludes it. The first column is the character's win loss record. The second is the average number of votes they received per match. The third is the average number of votes their opponents receved per match. For the three-way matches I added together the votes of both opponents. The fourth column is the difference between the second and third column and the table is sorted by this column.
A miracle that you believe in when you know it won't happen......... is hope.
Space cowboy

Posts: 2968
Joined: Thu Sep 23, 2010 12:11 pm
Worships: C.C.
Melon Pan: 50
Wish: Something amazing to happen...
Cards: Sedon's Cards
Location: changing every second
*yay!* Lelouch *yay!*
shiraoky wrote: I had a feeling this was going to happen, but..
NOOOOOOO HOMURA VS RURI ;A; ;A;
a match made to troll Shira..
good luck working your brains out on who to support, you'll need to think carefully
---



Credits to:


Energetic

Hikari-chan

for the slivers


MultiLing Keyboard Madness ⊇≪☜∵↖ⓢⓔⓓⓞⓝ↗∴☞≫⊆
Mayushii~ + Kuristina-HomuHomu
Show

Thanks to Midnight-Jasper for Mayushii~ sig and awesome Momokutenshi for the Kuristina-HomuHomu sig~ <3
Lost but not forgotten~ Tu tu ruu~!
Incubator

Posts: 3613
Joined: Tue Mar 01, 2011 5:42 am
Worships: Rosario Cross
Melon Pan: 50
Wish: A very good tournament and more cookies. Moehood to reign
Cards: xcrossfacekillahx's Cards
Location: Planet Saimoe
Choose carefully and don't be swayed by the hype.
Translator

Posts: 214
Joined: Tue Mar 03, 2009 5:19 pm
Badges:

Melon Pan: 65
Cards: Cytrus's Cards
Location: Poland
Poor Homura. Top 16 vs a character who couldn't make it through prelims? Both are wonderful characters, but you can never forget demographics in saimoe.
Shinigami

Posts: 2662
Joined: Wed Jun 01, 2011 2:38 pm
Worships: Izayoi Sakuya
Melon Pan: 50
Wish: Gotta nom 'em all!~
Cards: JLoable91's Cards
Location: Neo-Venezia
Contact:
I don't really care for the results...

But Na-Na-Naoi! FINALLY!!
And I think Homura can win this quite easely...

Assassin

Posts: 543
Joined: Sat May 28, 2011 5:36 am
Worships: Madoka
Melon Pan: 50
Wish: me to be in an anime.
All-time Favorite:
Tachibana Kanade
Cards: Cross's Cards
Location: ISML lair
Lulu for the win!
So, there's really a Kuroneko vs. Homura?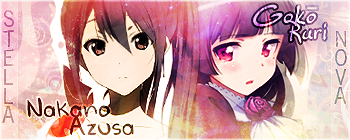 Support ISML + My All-time Favorite
Show