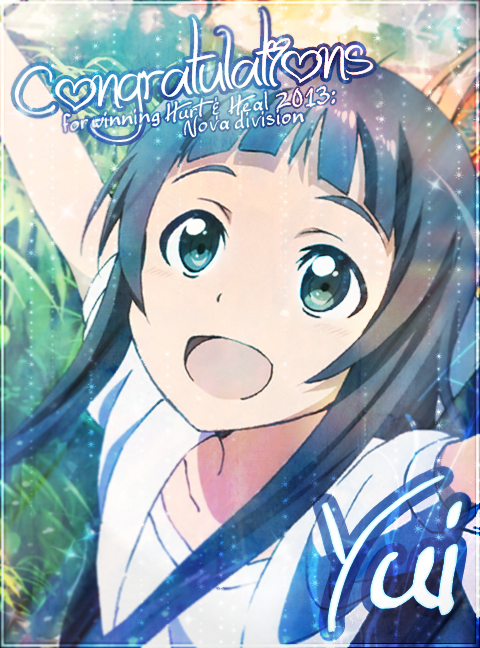 Thanks to

Midnight-Jasper

for the gorgeous winner's poster~
After a one year hiatus, Hurt & Heal is back~!
There are new rules, so please read carefully.
REVIEW AVAILABLE ACTIONS
Only accounts older than the 22nd April 2013 may participate. Accounts with a post count lower than 100 may be subject to further scrutiny.
You must wait for 3 others to vote

and

20 minutes after your previous vote.
EXCEPTION: If a character is killed with your vote, then the only limitation is no double posting.
EXCEPTION: If no one has voted for 6 hours, then the only limit is no double posting.
RULE ADJUSTMENT: The time limit between posts has been extended to 20 minutes as of this post
Your post cannot kill two or more characters. You cannot hurt and heal the same character.
Make sure your list is accurate or

suffer penalties

. Edit and fix immediately if you find an error.
If somebody has broken a rule, do not count their vote. Fix others' math errors if possible.
Never delete your votes. Deletions are recorded in the Moderator Log and will be punished.
You can only heal as much as you hurt. You can never heal more than you hurt. You can, however, hurt more than you heal.
When voting, recopy the entire list, visibly indicate changes (eg. using parentheses or bold), and recalculate characters' HP. Please consider using the 'quote' function for accuracy. Please also remove the quote tags if you use the quote function.
The reward for winning Hurt and Heal (besides fame, glory and possibly a gorgeous poster) is eternal enshrinement in the Hall of Fame and exemption from future editions of H/H: Nova, Stella, and Exhibition.
Senior Members
:
If there are no moderators around
and you spot a significant error, lock the thread, make an correction post (do not hurt/heal), then unlock the thread. Abuse of any kind will obviously lead to removal from Senior Members.
Please do not make off-topic posts. If you have something to say, you have to also vote.
If you have a question or comment about this game, please post
here
.
Current Limits

Current Limits

- Maximum HP per character: 200

- Maximum actions per vote: 4 (see below for available actions)

- Maximum characters that can be affected in any single turn: 3

- Minimum characters that can be affected in any single turn: 2

+1 Heal, -1 Hurt
+1 Heal, -2 Hurt
+1 Heal, -3 Hurt
+2 Heal, -2 Hurt
-1 Hurt, -3 Hurt
-2 Hurt, -2 Hurt
+1 Heal, -1 Hurt, -1 Hurt
+1 Heal, -1 Hurt, -2 Hurt
+2 Heal, -1 Hurt, -1 Hurt
-2 Hurt, +1 Heal, +1 Heal
-1 Hurt, -1 Hurt, -1 Hurt
-1 Hurt, -1 Hurt, -2 Hurt

-The above limits apply when there are characters in play
Final finishing order:
[tr][td]01 -

.
[/td][td]02 -
.
[/td][td]03 -

.
[/td][td]04 -
.
[/td][td]05 -
.
[/td][td]06 -
.
[/td][/tr]
[tr][td]07 -

.
[/td][td]08 -

.
[/td][td]09 -

.
[/td][td]10 -

.
[/td][td]11 -

.
[/td][td]12 -

.
[/td][/tr]
[tr][td]13 -

.
[/td][td]14 -

.
[/td][td]15 -

.
[/td][td]16 -

.
[/td][td]17 -

.
[/td][td]18 -

.
[/td][/tr]
[tr][td]19 -
.
[/td][td]20 -

.
[/td][td]21 -
.
[/td][td]22 -
.
[/td][td]23 -

.
[/td][td]24 -

.
[/td][/tr]
[tr][td]25 -

.
[/td][td]26 -
.
[/td][td]27 -

.
[/td][td]28 -

.
[/td][td]29 -

.
[/td][td]30 -

.
[/td][/tr]
[tr][td]31 -

.
[/td][td]32 -

.
[/td][td]33 -

.
[/td][td]34 -

.
[/td][td]35 -

.
[/td][td]36 -

.
[/td][/tr][/center]
NB. Deaths in Italics directly affected by inaccurate posts.
#2: Nibutani Shinka - faded away into Autumn as this game is drawn to a close by Momokutenshi
#3:
Kuroyukihime
- achieved Level 10, whereupon a forced uninstall was enacted by her parent
Asuna
#4:
Roromiya Karuta
- forcably turned to a skeleton by
shiraoky
#5:
Hasegawa Kobato
- permanently reverted to an ancient vampire after her abrupt slaying by
hinakatbklyn
#6:
Araragi Tsukihi
- waiting to arise once more after being burned to ashes by
Alexander
#7: Akemi Homura - forever preserved in time after her first run ended one point early at the hands of shiraoky
#8: Makise Kurisu - time leapt to the freedom of the Steins;Gate when forewarned Divergence .196895 lead to betrayal by Desufire 6 points early
#9:
Shirakiin Ririchiyo
- died avenging her servant, successfully putting an end to reign of the evil youkai
Desufire
#10:
Takanashi Rikka
- discovered her destiny in her Tyrant's Eye when faced with
Momokutenshi
#11:
Shiina Mashiro
- Plan C'd by
kanohistorm
#12: Aoyama Nanami - departed to become a seiyuu in a better place under Momokutenshi
#13:
Natsume Rin
- struck out by
kanohistorm
#14:
Honma Meiko
- her soul finally set free by
Desufire
#15:
Yūki Mikan
- discovers the hidden dangers in the allure of her onii-chan in
superunature
#16: Nōmi Kudryavka - the second to forsake hinakatbklyn's mercy stroke, resulting in her execution
#17: Misaki Mei - found her soulmate in Alexander
~
"Death is not kind. It's dark, black as far as you can see, and you're all alone."
#18:
Sanka Rea
- slain by zombiehunter
DurianDude
#19:
Nyarlathotep
- crawled into the chaos of eternal rest by whim of
Desufire
#20:
Towa Erio
- fatally injured while attempting to retrieve her futon from the flames of
Desufire
#21:
Konoe Subaru
- made redundant by the superior butler skills of
JLoable91
#22:
Chitanda Eru
- murdered after solving the mystery of his arson to preserve the killing streak of
Desufire
#23:
Kotegawa Yui
- expelled from the harem by
Momokutenshi
#24:
Yūki Asuna
- dissolved in a Flash on the night of blood cast by
DurianDude
#25:
Kurasaki Fūko (Sky Raker)
- caught without armament and lost amid the wrath of
kanohistorm
#26:
Araragi Karen
- asphyxiated by the toothbrush wielded by
kanohistorm
#27:
Momo Belia Deviluke
- maliciously roasted for adding traps to her future King's harem by hell's
Desufire
#28:
Kirishima Shōko
- electrocuted with her own taser whilst bathing by the now infamous
kanohistorm
#29:
Mikazuki Yozora
- once again foreveralone.jpg after a fatal altercation with mass serial killer
kanohistorm
#30: Kashiwazaki Sena - rendered nothing more than commercial Niku by Momokutenshi
#31:
Kirigaya Suguha
- overestimated her skills and had her wings clipped by
Momokutenshi
#32:
Takanashi Tōka
- destined to forever wander in delusion after capture into the eye of the
kanohistorm
#33:
Oshino Shinobu
- self-destructed after having all her donuts stolen by
kanohistorm
#34:
Yuzuriho Inori
- judged Guilty and sentenced to execution by hand of
kanohistorm
#35:
Ayano Keiko (Silica)
- victim to the boss on the 12th Floor,
Desufire
#36: Kanzaki H. Aria - a casualty of inaccurate posts, ultimately slain by kukimunstir
Due to having received more than 8 times the average action point expenditure on a single character and 7 lifetimes worth of healing,
Akemi Homura
has been granted an honorary seat in the Hall of Fame as the most fought over character not to win. A seat on this honorary panel, which allows immunity from future H/H Editions, is granted to characters for such exceptional achievements.
______________________________
Akemi Homura - 100
Aoyama Nanami - 100
Araragi Karen - 100
Araragi Tsukihi - 100
Ayano Keiko (Silica) - 100
Chitanda Eru - 100
Hasegawa Kobato - 100
Honma Meiko - 100
Kanzaki H. Aria - 100
Kashiwazaki Sena - 100
Kirigaya Suguha - 100
Kirishima Shōko - 100
Konoe Subaru - 100
Kotegawa Yui - 100
Kurasaki Fūko (Sky Raker) - 100
Kuroyukihime - 100
Makise Kurisu - 100
Mikazuki Yozora - 100
Misaki Mei - 100
Momo Belia Devilure - 100
Natsume Rin - 100
Nibutani Shinka - 100
Nōmi Kudryavka - 100
Nyarlathotep - 100
Oshino Shinobu - 100
Roromiya Karuta - 100
Sanka Rea - 100
Shiina Mashiro - 100
Shirakiin Ririchiyo - 100
Takanashi Rikka - 100
Takanashi Tōka - 100
Tōwa Erio - 100
Yui-chan (SAO) - 100
Yūki Asuna - 100
Yūki Mikan - 100
Yuzuriha Inori - 100
Now go out and wreak havoc~
♥