Assassin

Posts: 543
Joined: Sat May 28, 2011 5:36 am
Worships: Madoka
Melon Pan: 50
Wish: me to be in an anime.
All-time Favorite:
Tachibana Kanade
Cards: Cross's Cards
Location: ISML lair
Can I request a song for the Championship video? Perfect Day by Supercell please.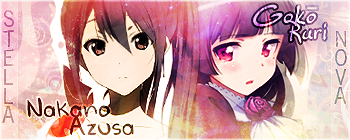 Support ISML + My All-time Favorite
Show
Wan Wan Wan

Posts: 2010
Joined: Tue Feb 17, 2009 3:09 am
Badges:

Worships: Kinomoto Sakura
Melon Pan: 50
Wish: Fluency in Japanese
Cards: Crisu's Cards
Location: USA
Contact:
We will not have an official championship PV this year, but there is a fanmade one over this way:
viewtopic.php?f=11&t=3432
" onclick="window.open(this.href);return false;
Signature by Hikari-chan
Ninja cadet

Posts: 1
Joined: Sat Nov 17, 2012 9:18 am
Melon Pan: 50
Wish: want to be a singer
Cards:
I am also want that video...
When it would be available..