Zealot

Posts: 483
Joined: Thu May 27, 2010 4:45 am
Worships: Kamio Misuzu
Melon Pan: 50
Wish: Pass all my **** classes XP.
Cards: Midst's Cards
Location: Berkeley, CA, USA
Sad to see the result of last match. Other results were predicted. I did not expect that CL+FSN<<AB+the other one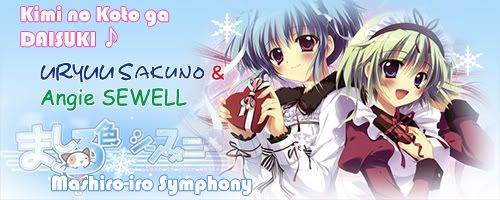 Wan Wan Wan

Posts: 2010
Joined: Tue Feb 17, 2009 3:09 am
Badges:

Worships: Kinomoto Sakura
Melon Pan: 50
Wish: Fluency in Japanese
Cards: Crisu's Cards
Location: USA
Contact:
I will add "Kuroneko" to Ruri's name for improved clarification.
Signature by Hikari-chan
Imouto

Posts: 132
Joined: Wed Jan 06, 2010 1:37 pm
Worships: Nagato Yuki
Melon Pan: 50
Wish: I wish for a good year for Yuki
Cards: ichocoX's Cards
Location: Chile
Contact:
Dango

Posts: 50
Joined: Thu Jan 06, 2011 11:42 pm
Melon Pan: 50
Cards: sc178's Cards
Location: Toronto, Ontario
Well... Match 4 was the only one of my choices that won... though I very well could've gone the other way in Match 1 too. Somewhat hard to fully analyse because it's 2v2.
I also bring attention to the fact that the home page currently says "Preliminary Period, Phase I, Day 3 - 1500 GMT, Thursday, 4 February 2010" when it should be Wednesday, March 9th, 2011.
Moon princess

Posts: 3211
Joined: Wed Feb 18, 2009 2:43 am
Badges:

Worships: Bernkastel
Melon Pan: 50
Wish: dried plums to go with the tea.
Cards: Team Rocket Elite's Cards
Crisu wrote:I will add "Kuroneko" to Ruri's name for improved clarification.
Good to hear.
A miracle that you believe in when you know it won't happen......... is hope.
Cherry blossom

Posts: 961
Joined: Sat Mar 21, 2009 5:58 am
Worships: Gilgamesh
Melon Pan: 50
Wish: Become a member of the Straw Hat crew.
Cards: Hetaliafan09's Cards
*battle stance*

I AM A FEMALE MOE FAN AND I AM NOT ASHAMED!

p.s. tsundere's are terrible
Translator

Posts: 214
Joined: Tue Mar 03, 2009 5:19 pm
Badges:

Melon Pan: 65
Cards: Cytrus's Cards
Location: Poland
I was actually quite happy to see we have about 25% female voters. Moe, as a study of 'desirable' female qualities in a broad sense, has generally always been linked with a male-dominated 'consumer' audience. This unfortunately carries with it the stigma of fetishism and objectification of females. I think it's safe to assume that most of us contributing to the league would like to promote a more positive image of the phenomenon, one consisting of both male and female viewers enjoying the 'healing' factor of moe. In this sense, the presence of female voters is most reassuring and welcome.

Thank you to all the ladies who have stuck with the league so far, and let's enjoy another year together.

PS Korean Best Moe, on the other hand, is quite scary with a nearly 50/50 ratio even in the female part of the competition... fear the power and organization skills of Korean fangirls.