"For those unaware, in ISML any character from any anime, OVA, Movie etc can be nominated, and as long they're not from a hentai anime and have enough airtime (though usually a few minutes is enough)."
I thought we might have discussions about whom we are going to nominate, why, and what kind of chances they might get. Since the number of nomination slots aren't set in stone yet, I'm going to throw out many names whom I believe to be deserving of considerations.
1. Sheeta from Laputa: Castle in the sky
This is the main heroine from one of the best animated work ever, and she deserves nomination just for that, but she offers much more. She is a sweet, cute, hard working girl, who won't flinch at danger, and looks after people around her. One of the prototypical good girl, who also had the looks to charm the boys during 1980s. She deserves a mention.
2. Eve from Megazone 23
I present the following evidence. Please try to obtain higher quality video for proper judgment as youtube just does not do EVE justice.
3. Asakura Minami from Touch
She is the perfect girl of the 1980s, the dream childhood friend, who got everything other than money. Touch was the anime that shed tears unnumbered, and as the main heroine of perhaps 1980s, Minami deserves a mention.
4. Tsukamoto Yakumo from School Rumble
Good girl? check! Beauty with long dark hair? check! Noto Mamiko? check! Yakumo repeatedly got close but failed to make it through the prelim. She deserves another shot.
5. Shiho Matsuri from SOLA
See 4. Matsuri also brings supernatural action to the table as well.
6. Isara Gunther from Valkyria Chronicles
She is much underestimated girl from a series that had the potential. The series recognition may kill her chance, but she was one of my top girl of 2009. I have attached a picture as the evidence.
7. Sengoku Nadeko from Bakemonogatari
In a sense, Sengoku is not a deep character, but I do know she has mesmerized many already, and she can be a cute tease. Since Hitagi will likely be nominated by others, I'm going for a side character.
8. Mizunashi Akari from ARIA
The current ISML standing does not do her justice as she suffered more for series recognition than the merits of her character.
9. Isayama Yomi from Ga Rei - Zero
Believe it or not, she was the one who got most fervent support from Anizone people during Best Moe Tournament, but she just couldn't overcome the lack of series recognition. She deserves much better.
10. Tsuchimiya Kagura from Ga Rei - Zero
As also does #9's imouto/step-daughter.
11. Ishizuki Koyori from SOLA
She still is my number one choice for a daughter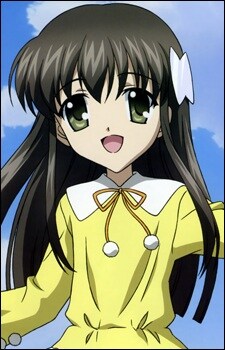 12. Kousaka Tamaki from To Heart 2
She is much underrated and doesn't deserve the reception she got on ISML 2008. Perhaps one of the most awesome characters from Eroge.
13. Hirai Yukari from Shana
Her existence is matter of philosophical debate. I agree with many that anime series strengthened her too much, that I wish there was a way to bring her back.
14. Ayukawa Madoka from Kimagure Orange Road
This is the girl that Otakus in late 1980s and early 1990s were just drooling about. The pictures just doesn't do her justice, so I recommend all of you to look for her pictures.
15. Amamiya Yuuko from EF
Long Dark Hair for the Win!!!
16. Sakurazaki Setsuna from Negima
Given the right support, this girl won an ISML necklace, fair and square, all legit votes. I am a sucker for girl with long swords and she is no exception.
17. Kotobuki Tsumugi from K-ON
She is a stretch for me, but I do like her confident yet gentle air.
18. Shiina Hikaru from Figure 17
Very underrated girl from very underrated series. Hikaru deserves more love
19 & 20 Todo Shimako and Nijo Noriko from Maria-sama ga Miteru
As I always said, White Rose family for the win.
-----------------------------------------------
Had to be dropped to lower tier due to
reality
1. O Yuki from Urusei Yatsura
If you are the #1 girl in Moroboshi Ataru's catelog of thousands of girls, that means a lot.
Couldn't find Japanese original, but Oyuki sounds much better in Japanese